The release of Unica v12 was ambitious, and with v12.1 released less than a year later with a host of new features, HCL are positioning Unica as the go to solution for marketers to engage with customers in a meaningful way.
Unica Journey, is the newest module in the Unica suite which promises to provide "goal-based orchestration … that can craft, execute, and visualise context-driven, personalised, multi-step omnichannel customer experiences". That's quite a promise, and in this blog, I am going to look at how marketers use Unica Journey to deliver customer experiences at scale.
Goal Based Marketing
Every marketing communication we send to a contact has a KPI attached to it, and that's a goal, right? Well yes and no. The metrics we apply to a newsletter style email campaign could be opens and clicks. Similarly, we might measure offer redemptions or conversions. Traditionally, we use marketing automation to select a target group of contacts for a communication, send the communication and analyse the results. This kind of marketing activity is campaign oriented, and it plays a big role in most marketing strategies. It is the way most marketers communicate targeted, compelling, and highly personalised content. Goal based marketing on the other hand, is when marketers build customer experiences that respond to customer actions in a way that feels more like a conversation. The timing of messages, the content and actions are all based on individual customer needs.
Goal based marketing is when our marketing activity takes a contact through a series of touchpoints that leads them towards a defined business goal. This could be converting a lead into a customer, taking a new customer through an onboarding process, or helping an existing customer activate their store card. Goal based marketing is customer centric, and marketers will usually call this kind of activity a 'customer journey'. Most organisations will have clearly defined customer journeys for different stages of the customer life cycle or events.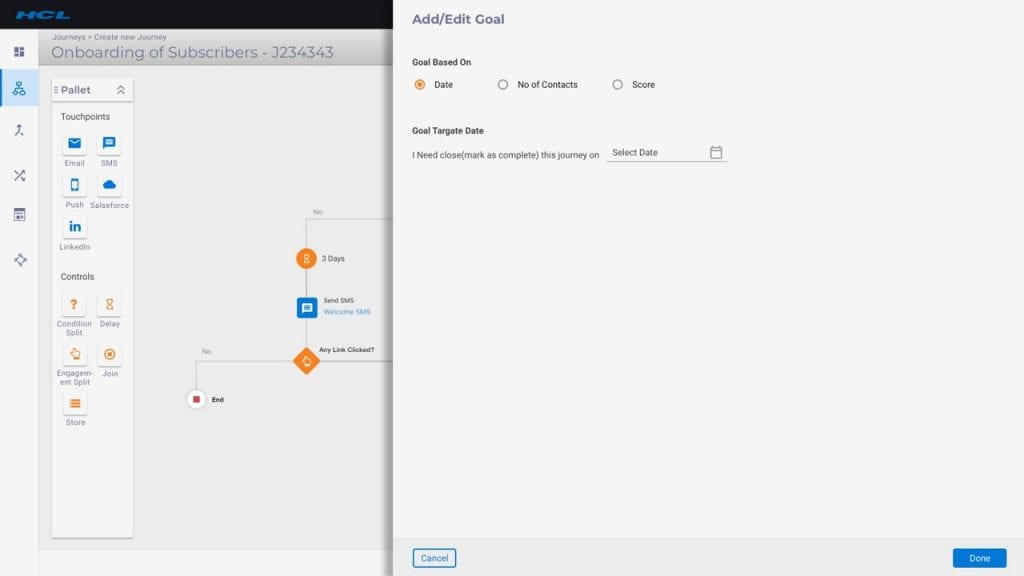 Whiteboarding a customer journey
When defining a customer journey, marketers usually start with a whiteboard, note cards, bits of string. Marketers define entry and exit criteria for their customer journeys, with a series of touch points and follow ups based on customer actions. The role of the Unica user (the Martecheter) is usually to translate those customer journeys into a series of interdependent components; customer segments, flowcharts, emails, Interact strategies, mobile messages, and so on.
A Unica Campaign user will confidently tell you that anything is possible, but the reality is that the interdependency of different interactions, channel and integrations sometimes makes building this kind of customer journey in Unica Campaign a complex task. This is where Unica Journey provides value – it brings that whiteboard to life.
Connected within a single palette
Marketers build the customer experience with Unica Journey in the 'Journey Palette'. The entry point to a journey could be a flat file, an output from Unica Campaign, or any number of data sources configured using Unica Link. The logic created in the journey palette means that the application knows what messages to send, to whom and when. Using 'Journey Control' processes; decisions, delays and joins, the customer journey can be mapped to a series of 'Touchpoints'. Touchpoints are the messages we send to contacts through any number of channels. Unica Journey allows marketers to easily configure Email, Mobile or AdTech touchpoints or trigger an outbound call via the Salesforce CRM platform. Touchpoints can be sent via the Unica Deliver integration or any number of channels connected via Unica Link, including other email marketing platforms like MailChimp.
In Unica Journey, the interdependent components from the customer journey are configured, monitored and reconfigured within a single palette. The palette takes the customer journey from being a disparate number of interdependent activities into a single user interface that can be monitored, refined and re-published in a few clicks. In Unica Journey the Martecheter refocuses their expertise away from building and monitoring automation and towards crafting meaningful customer experiences.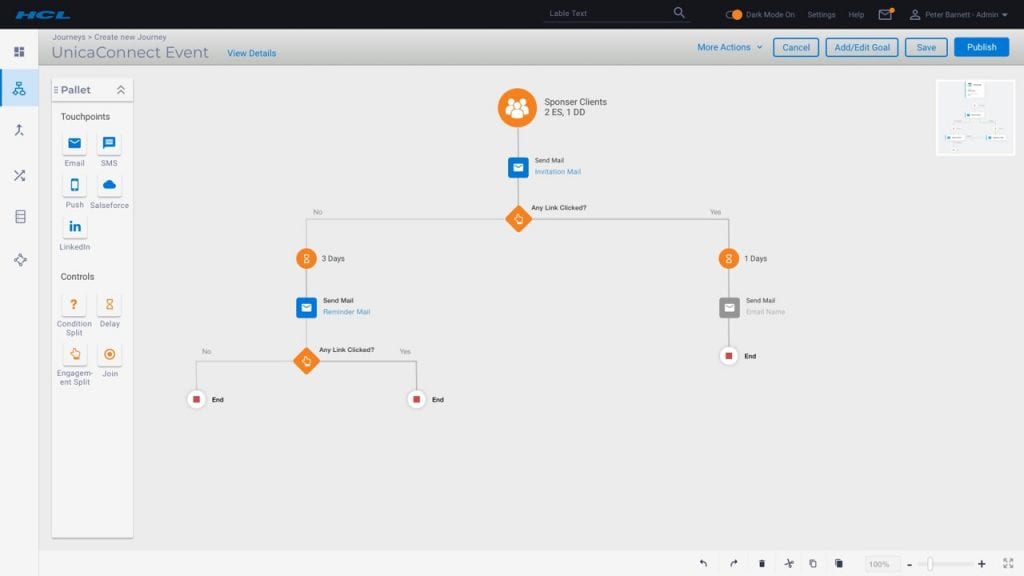 It's not a Flowchart
Knowing when to use Unica Campaign and when to use Unica Journey is key to good campaign design. Knowing when to use them together is awesome campaign design. Unica Campaign is a market leading customer selection and segmentation tool, that can do the heavy lifting of data from various sources with ease. There is now a 'Journey' process box in the Unica Campaign Flowchart that seamlessly connects that output from a campaign flowchart to the entry point of a journey. This means that Unica Campaign can continue to select, merge and process customer data, and instead of just outputting a target cell to a channel, it is able to send customers on a multi-channel, multi touchpoint journey that is responsive to their interactions. The seamless integration is further enhanced by a unified contact and response history allowing interactions to be recorded, tracked, and analysed within the Unica platform.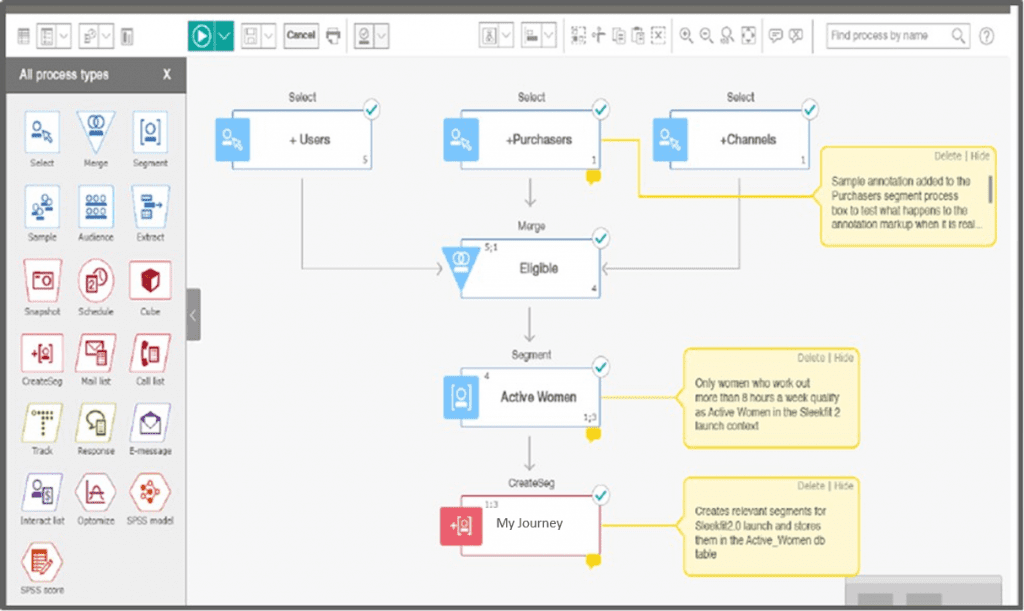 Yes We Unican
There have been many small enhancements to the Unica Suite since the release of Unica v12 that have made a big difference to the user experience, and new modules such as Unica Link, Unica Discover, Unica Deliver and Unica Journey are all ambitious new modules that bring new capabilities that empower marketers to deliver compelling customer experiences with ease and at scale. Unica Journey is a significant step for HCL Unica that brings functionality so intuitive that we will probably wonder how we managed our customer journeys without it.