With the release of version 11.0 in June 2018 of the Unica marketing platform, HCL introduced a new upgrade process to help minimise downtime of Production environments, speed up upgrades from earlier versions and eradicate upgrade risks. Known simply as the Fast Upgrade process, what could have taken days or even weeks in the past can now be completed in just hours.
The previous multi-step upgrade method involved installing each major base version – for each product – across potentially multiple servers and testing each deployment before continuing to the next, this was time consuming and resulted in extended downtime limiting users' access to the system and impacting campaign execution. With Fast Upgrade, fewer installers are needed to be run and the path to the latest version is much quicker and streamlined.
The Fast Upgrade process supports upgrades to the latest version 12.1.0, from version 8.6 or higher. This means that customers could benefit from 1400+ enhancement requests, a redesigned UI, new features including Marketing Software Director and Centralized Offer Management, and support for newer web application server, database types and versions.
To perform a Fast Upgrade: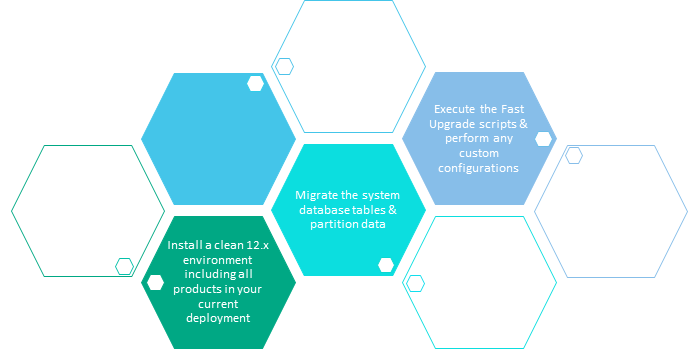 We'd recommend customers employ this new upgrade model and install version 12.x to new hardware (virtual or physical) as this puts the 'fast' into the process whilst providing an uncompromised recovery solution. However, if you're upgrading from version 9.1.2 or higher, this may not be required – so long as your existing operating system, database and web application server versions are still supported by version 12.x, you can still benefit from the process and in turn reduce the impact on your campaigns and users.
With Fast Upgrade, downtime only begins after the clean 12.x version is installed and ready for the migration processes – provisioning of the hardware and the installation does not affect the existing implementation, only when the clean installation is completed and verified does the Production environment need to be shut down for the database and file system migrations to take place.
As always, the first attempt of any process should be on a Development or Test environment and the new model natively supports this, making it easy to deploy your Production environment as a Development / Test environment for User Acceptance Testing. It is clear that the Fast Upgrade process for the Unica marketing platform is a no-brainer to upgrade your environment to the latest and greatest. The Fast Upgrade process currently supports Campaign, Interact, Plan (was Marketing Operations), Optimize (was Contact Optimization) and Interact.
Keeping your Unica platform up-to-date and taking advantage of the new features, functionality and security enhancements delivered with the most recent versions ensures your business maintains its competitive edge. With the release of version 12.1.0 in July and the support for fast upgrades, there has never been a better time to move over to the latest version of Unica.
We're proud of our reputation for delivering a reliable, professional service and have pooled our knowledge and expertise to bring you cost-effective programmes for a seamless transition, contact Purple Square today, and we'll help your business move forward with confidence