There is a great saying "the journey is never-ending". The SFMC Journey Builder is a powerful tool that empowers marketers to design and automate campaigns that guide customers through their journey on a 1-to-1 customer experience, across multiple channels.
That may be starting at an opt-in for your brand, engaging through a welcome series and newsletters, greeting them on their birthday and anniversary, reminding them about abandoned carts, or communicating around enhancements or upgrades for customer re-engagement. Whatever journey you're planning, there are key areas to consider in the design phase.
Key considerations in planning a journey
Ask yourself:
What purpose does the journey serve? (Objective and goal)
How do you want the audience to enter the journey? (Entry Source)
What is the frequency of communication with the audience? (Activity)
Journey Design: Getting Started
Define your Entry Sources
Determe the data you'll need to best engage your customers and see the results you're aiming for.. There are multiple ways to enter your customers into a journey as shown below. These include Data Extension, Salesforce Data, API Event, Cloud Pages, Event, Mobile Audience, Audience Studio (DMP) and Google Analytics 360.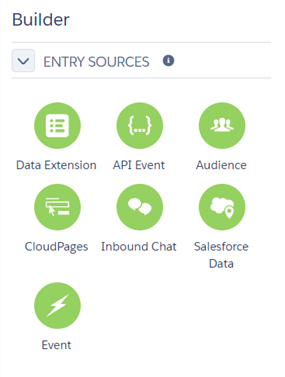 Activities are the building blocks of your journey
Most of the journey will consist of the Activities. These are the building blocks and the medium to interact with customers and move them from one stage of the journey to another. The various Activities available include:
Messages (emails, SMS messages, WhatsApp, push notifications, in-app messages, Line messages, Inbox)
Advertising (Ad Campaign, Ad Audience)
Flow controls (Wait, Split, Join, Path Optimizer)
Custom Updates (Update Contact)
Sales and Service Cloud (Convert Lead, Lead, opportunity, Contact, Account, Object Activity, Campaign Member, Task, Case)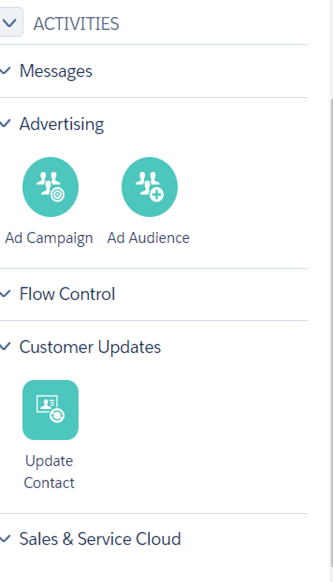 Validate, Test and Deploy your journey
Before the final deployment of the journey never forget to Validate and Test your journey. Validating may allow you to identify a few missed links like (journey setting or goal setting) that you might have skipped. It gives you the confirmation that the journey's components have been configured properly and work as expected. On the other hand, testing allows you to view from the perspective of a a real contact in the journey according to their buyer persona and how the messages render in your inbox. It also confirms whether the contact will receive the correct communications before you launch the journey.
Marketing Cloud's Journey Builder is a powerful customer interaction tool that drives heightened engagement and increased opportunities for customer retention and is capable of personalised audience journeys. Whether it is a single send, personalised emails or multi-step complex journeys across any channel, Journey Builder allows marketers to easily and effectively design, build and test robust customer communications
If you'd like help with Journey Builder or any other aspect of Salesforce Marketing Cloud, get in touch!