Data Platform & Marketing Cloud
Purple Square take a look at Customer 360, and how it can make our lives as Salesforce Marketers that much easier.
Customer 360 is a world leading CDP (Customer Data Platform). A CDP is a relative newcomer to the world of marketing, it is a system that allows you to unify all of your disparate customer data in a single platform that can be accessed quickly, easily and reliably by all your other systems. It's not hard to see why Salesforce refer to this as the '360 view', enabling this superpower with their intuitive drag and drop interface.
Why exactly should you invest in a CDP? By combining all of your data sources, you can present a unified front to the digital world. Your website, your analytics tools, your outgoing marketing comms, real time decisioning, AdTech, and a whole host of other endpoints (including service & commerce technologies) can pool and simplify their collective understanding of the customer, allowing you to obtain, and action, greater insight than ever before. This can substantially increase your ROI by improving personalisation and targeting your messages consistently across every channel, while reducing your costs by only marketing to the customers you want to during any given interaction.
There is great power in simplicity. Vanessa Vazquez, Marketing Cloud Lead at Johnson & Johnson said in a recent interview "Don't overcomplicate things. Access to the information is actually more effective than very complicated journeys".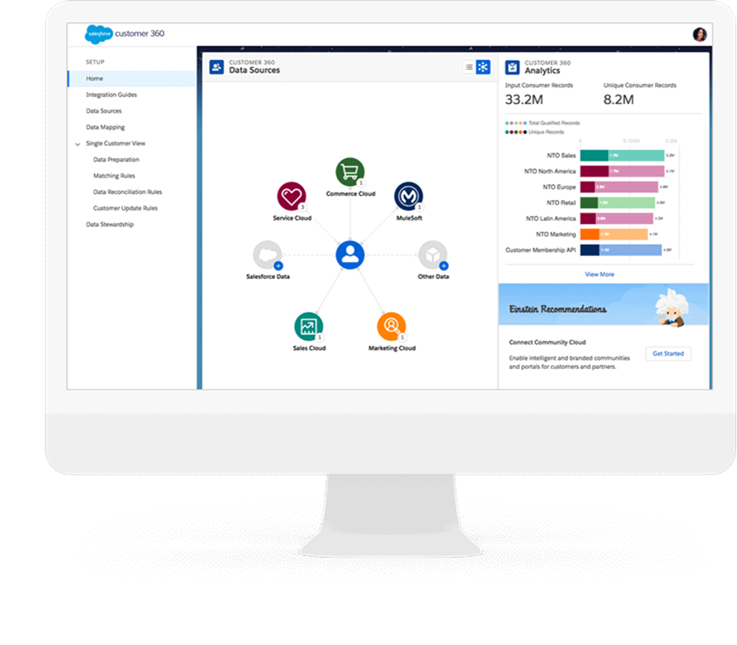 All of this perfectly integrates with Salesforce Marketing Cloud, dramatically improving your segmentation and personalisation capabilities, leading to higher open & click rates and greater levels of conversion.
It's not a magic bullet of course, no MarTech has yet achieved that and maybe never will. Great care must be taken to ensure consistency across the data feeds, and to avoid duplication, especially in any integrations where manual inputs are permitted, for example in many Service applications, and some credible competitors to SF Customer 360 such as mParticle and Tealium are gaining traction. Used well however, it will become an invaluable tool in a marketers never ending quest to improve engagement and increase share of wallet.
Get in touch with us for more information.