How to use behavioural targeting to personalise your marketing automation campaigns. Marketing automation is an indispensable component of any good marketing strategy. 4 in 5 marketers increased their leads by using marketing automation software and almost as many (77%) saw an increase in conversions.
But a smart automation tool isn't a lead-producing, conversion-boosting magic wand.
To get the most out of marketing automation, you'll need to provide personalised experiences that wow your customers at every turn. In fact, 2 in 5 shoppers would consider not shopping with a retailer that emailed them every day with irrelevant information and 1 in 4 are more likely to be loyal to a brand that sends marketing emails that are tailored to them.
In this post, we'll show you how to use behavioural targeting to personalise your marketing automation campaigns.
What is behavioural targeting?
Savvy marketers know that it's ineffective to deliver the same marketing content to everyone. Afterall, each consumer has their own favourite colour, preferred size and frequently purchased brand. That's why the marketing campaigns that resonate most with consumers use different approaches for different audiences.
In brick and mortar stores, sales clerks convert customers overwhelmed with choice by pointing them in the direction of the most popular items and help out shoppers who have balked at a hefty price tag by showing them the latest discounted items. To translate this level of personalisation over to your marketing automation campaigns, marketers can use the wealth of behavioural data available at their fingertips.
For a complete picture of shoppers' needs, it's essential to collect transactional and behavioural data from every channel where customers interact with your brand. With a personalisation platform like Fresh Relevance, you can integrate customer data across systems in real time – including your ESP, eCommerce platform, and customer database. This data can be used to segment customers into lists based on their interests, customer lifecycle stage, and position in the buying funnel, allowing you to drive revenue and improve the customer experience by targeting shoppers with the most relevant website content, and selecting which triggered emails customers should receive.
Behavioural targeting in action
Let's take a look at some key audience segments you should be tracking, and the content that is likely to deliver the best results.
1) Frequent browsers who haven't made a purchase yet
Create a segment of shoppers who are highly engaged browsers but haven't converted into a paying customer yet. Our research shows that sending a browse recovery email can lift sales 4.7%, so send these shoppers browse abandonment emails to remind them of the items they were looking at. Include reviews and ratings to ease any potential purchase anxiety and product recommendations to give them an extra dose of inspiration, as The Diamond Store has done in this example.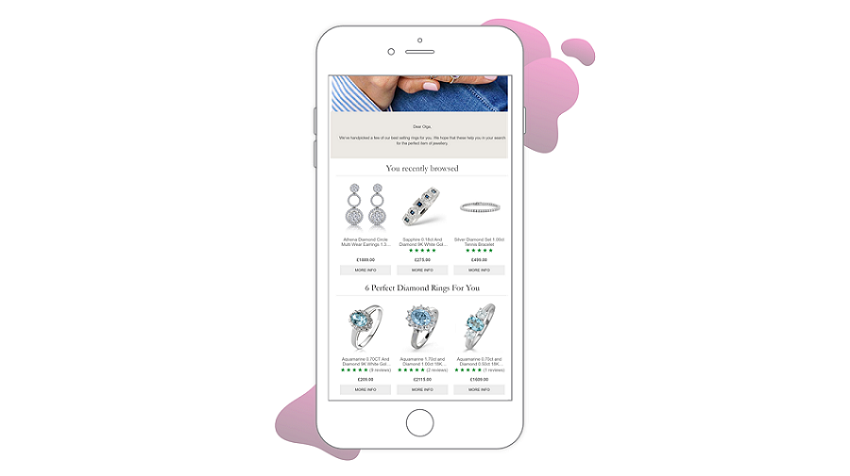 2) Shoppers who browsed a product that has dropped in price
Sometimes, a shopper won't quite get as far as completing a purchase because they were deterred by the price of a product. Segment this audience and send triggered price drop alerts when items they've browsed have been discounted. This provides extra encouragement for price-conscious shoppers and increases loyalty to your brand. With sales lifts for price drop emails averaging 3%, this is a segment worth targeting.
Country Attire adds tempting recommendations to their price drop emails, encouraging customers to not only fill their basket with the featured product, but also shop for other items that have dropped in price.
3) Customers who browsed an out-of-stock product
When a customer encounters an out-of-stock product, this can harm your reputation and send shoppers to your competitors. In fact, one in four consumers get irritated when finding a product they like is sold out online with no information on if and when it will be restocked.
Turn an out-of-stock product into a positive interaction by triggering an automatic back-in-stock email once the browsed product has been restocked. Toolstop includes big bold product imagery to remind customers of the item they were interested in, along with a product review.
4) Customers who are ready for cross-selling
Some customers will be particularly receptive to cross-sell and upsell messages. For example, a customer who purchased a bicycle may require related maintenance equipment.
Sending post-purchase emails with relevant product suggestions is a perfect opportunity to establish a relationship that goes beyond simply buying and selling. For example, our research shows that many female shoppers enjoy receiving ideas on how to wear the clothing they have purchased.
Photobox uses their post-purchase emails to recommend products that customers went on to view after buying that particular product. Product recommendations can generate sales uplifts of up to 11%, making this a lucrative tactic to include in your marketing automation campaigns.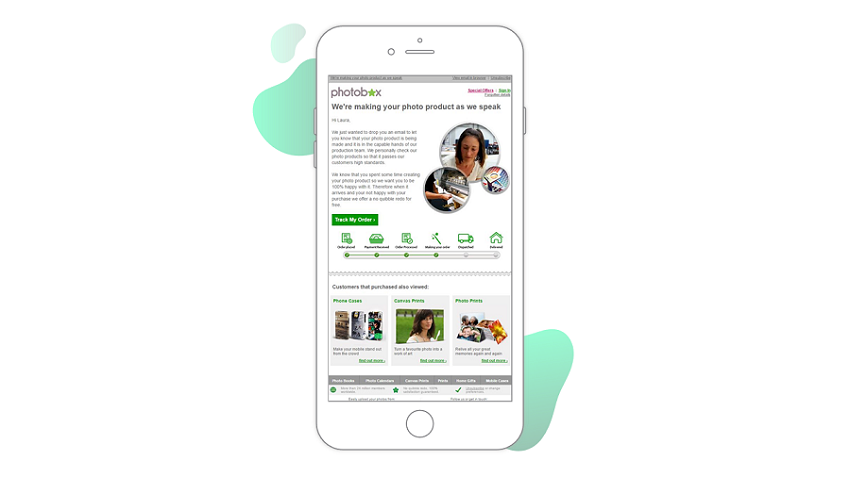 5) Customers who need a refill
Target customers who bought products that run out and need to be replenished, such as cosmetics, health supplements and consumable goods.
Send this segment timely emails reminding them to refill their stock, encouraging them to make a repeat purchase. Include personalised product recommendations in case the shopper is interested in alternatives to the original item.
Viovet reminds customers who purchased a particular product that it's time to re-purchase and recommends their own-brand product as a cost effective alternative.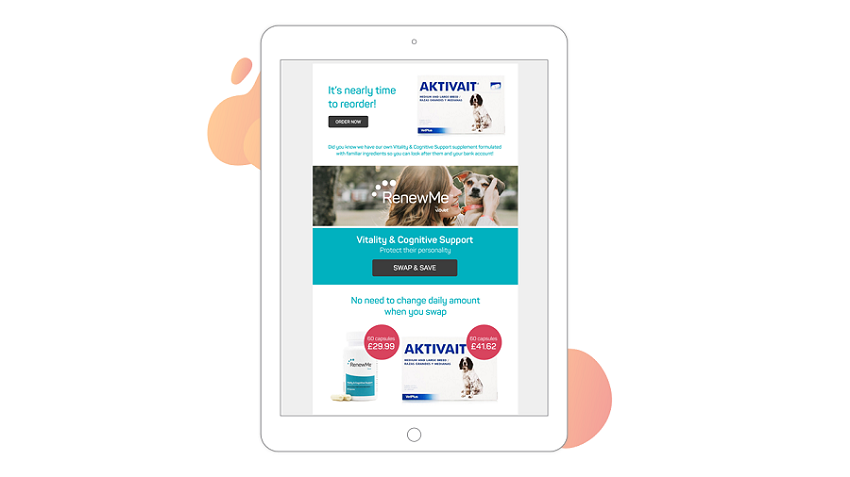 If you're not already using behavioural targeting, use these 5 audience segments as a starting point. With so many ways to use behavioural targeting to personalise your marketing automation campaigns, you can then get creative with segmentation and content to discover what works best for your business.
For more inspiration, download Fresh Relevance's eBook: 10 ways to personalise the customer experience with behavioural targeting.