Invest for success
Application management as an enabler. The bulk of enterprise software implementation effort (and consequently budget) is typically allocated to the technology purchase and its subsequent deployment, with on-going support for marketing teams often a distant afterthought.
However, truly successful implementations, that is those that truly achieve their potential in terms of ROI and adoption objectives, require an appropriate level of investment in enablement as well.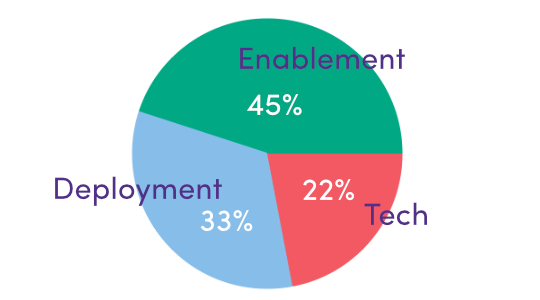 Enablement includes post-deployment initiatives such as best-practice consulting to get the most out of the solution, ongoing learning to up-skill and engage the user community and technical support to ensure timely resolution of application questions and issues.
'Go Live' is just the beginning…
Questions and issues don't stop just because an implementation has achieved 'go-live' – in fact, this is often just the start of the journey for the business users of the system. Faced with a brand new and unfamiliar system, and often a new data model, business and technical users alike will have a broad range of questions, responding to which requires broad and deep expertise across the domain and technology.
Internal IT, or even general outsourced support services, will often not have the highly specialised knowledge to deal with these sorts of questions effectively and efficiently.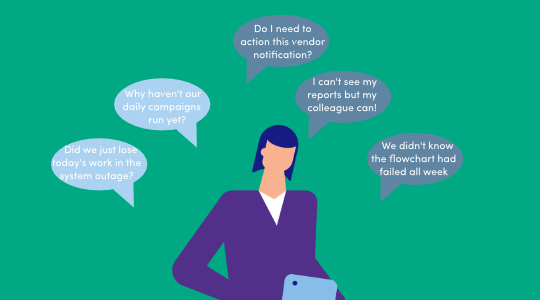 Recognise and address the causes, not just the symptoms
In order to understand how application support helps in this situation, it is worth acknowledging some of the pain points and importantly, recognising the underlying causes that result in this pain.
Issues such as frequent and recurring error messages, poor system performance or stability and challenges when escalating issues, may be exacerbated by an internal helpdesk unable to assist with complex technical issues beyond password resets, or 'how to' questions from users unaware of a solutions full capabilities.
Underlying causes could in fact be a sub-optimal configuration or design; a lack of understanding of back-end processing or capabilities; an absence of suitable housekeeping/maintenance routines, or perhaps that those tasked with supporting the environment simply haven't had sufficient real-world exposure to the solutions.
One size does not fit all
Support needs vary extensively. Wide-ranging capabilities within a solution set are often aimed at different audiences in an organisation and require varied levels of skill and knowledge to use effectively. Individuals in the same team often find they learn better in different ways and require mixed levels of support. This means one classroom-based training course or one application support approach may not meet everyone's needs.
Channels for support also vary from technology to technology. Of course, there will be online product documentation and vendors usually provide technical support lines and web portals. User communities will often generate their own online forums and knowledgebases. The solutions themselves are also becoming increasingly smart with self-help or assistant capabilities. However, nothing beats a skilled, experienced and helpful person on the end of a phone to talk through your requirement, understand the issue and propose a workaround or solution to get you back on track, and resume the steady flow of accurate digital communications to your customers.
Realise the benefits
Appropriate enablement of a business through effective application management can realise many benefits:
Improved user experience
Reduced frequency of common issues
Increased adoption of solution by users
Smoother, more effective issue progression
Appropriate escalation of product issues to technology vendors
Integrity and efficiency of deployed solutions
Better understanding of the solution
Identification of training/coaching needs
Contextual technical communications
Improved system stability
Identification and resolution of underlying causes in addition to addressing symptoms
Invest in appropriate enablement of and support for your marketing teams to avoid frustration and realise the full benefits and value of your marketing technology investment.