We're all familiar with the tried and tested concept of customer journeys in the quest for unparalleled customer experience. They represent an enormous step forward from the days of spray and pray marketing, or the even less targeted days of nationwide door drops (looking at you, Heinz). But in the cold, unfamiliar light of a world getting used to a new way of living and working, part of me is starting to wonder if even this cutting edge may be getting a little blunt. Today I'd like to talk about a concept that's been crystallising during the many conversations I've had recently with a number of influential CMOs. It's a concept I like to call Pocket Journeys.
Customers aren't what they used to be
It's not just the ways of working and living that are changing, it is the customers too. As any seasoned marketer would tell you over a glass of wine, customers just aren't what they used to be. I see a lot of thought leadership and hear an awful lot of talk about the modern customer being more savvy and more sophisticated, with higher expectations from brands. In falling over themselves to backhandedly praise this new, more elegant 21st century shopper, it is worth addressing what they aren't more of…and that is loyal. Even if you went out of your way to provide simply breath-taking, award winning service to a customer, what is often going through their mind is, what you have or haven't done for them lately.
In the retail world, to name just one of many (possibly all B2C) verticals that are suffering from this new malaise, marketers for the big brands are deploying ever more advanced and complex methodologies to capture the share of wallet away from their competitors.
As we look 2022 in the eye however, I'm inclined for once to advocate a little simplicity.
How effective are your current customer journeys?
Below is an example illustration of a customer journey, as many marketers will deploy them. All the industry leading Marketing Automation platforms offer similar programmatic capabilities to let marketers achieve the elegantly complex with the simplicity of a little bit of dragging and dropping. One thing I see in common across many verticals, is that customer journeys, even simple ones tend to consist of 5 or more steps, sometimes many more. These include entry points, (eg, cart has been abandoned), multiple decision points based usually on action or inaction, and if you are lucky, an attempt to contact the customer more than twice, across more than two channels.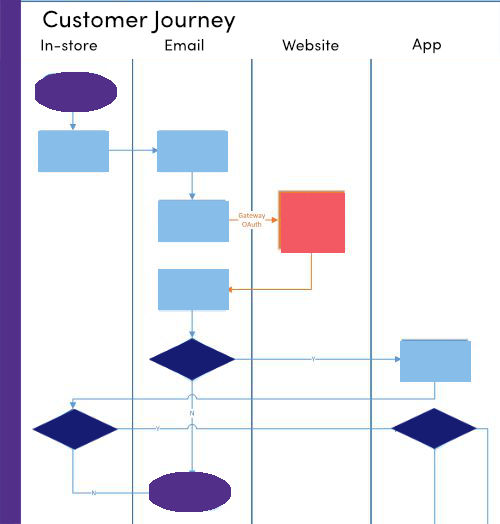 Assuming you are working in one of these B2C marketing teams, I have a question for you now :
How often do customers actually complete your standard customer journeys? Think about it for a moment, how many customers actually traversed A to B to C to D to E (assuming E is your conversion endpoint)?
I appreciate that barring an early conversion endpoint (and sometimes irregardless) the customer must traverse the journey whether they like it or not, but analysing the funnel to see who drops off where, will yield valuable information about how receptive customers are to your advances… and the answers may unsettle you.
Speaking of endpoints, this is where, finally, I can start to come to my point.
I give you the Pocket Journey.
Pocket Journeys
Imagine a marketing strategy populated with many shorter and more tactical journeys that take customers from D to E (or indeed B to E) without caring whether they first did A, B and C. As the name implies, a Pocket Journey should be highly mobile optimised to reflect peoples day to day lives, using apps and smartphone email as the primary assumed mechanism, though all the channel bases should naturally be covered.
A Pocket Journey should be simple, consisting of no more than three steps, an entry point, optional decision and digital communications. The key thing is that the entry point can and should take into account which other Pocket Journeys a customer has received recently, something that most leading Marketing Automation solutions have the capability for.
Some of the solutions out there on the market have a fairly low upper limit on the number of journeys you are allowed to create, so it's important to check your entitlements before you go down this path.
Flexibility in Simplicity
The advantage of operating a Pocket Journey strategy is quite simply flexibility. If the customer loses interest in the messaging sequence they are receiving on a journey, they disengage with that journey. A customer journey after all is an attempt to simulate in the mind of a marketer the desires and intents of a customer, and if you misread that intent, you will lose their interest, and in a worst case, annoy them, possibly to the point of unsubscribe.
Perhaps when you think about it that way, simpler is preferable.
This approach might take a little time to setup, as we could be talking about moving from a dozen to a hundred journeys, however it could pay some dividends; Pocket Journeys could allow you to get an increased share of wallet, or in this case pocket. Your customers might even, on some level appreciate the reciprocity of treating them more like they treat you.
And the alternative might just be an out of pocket experience.